March 30th, 2010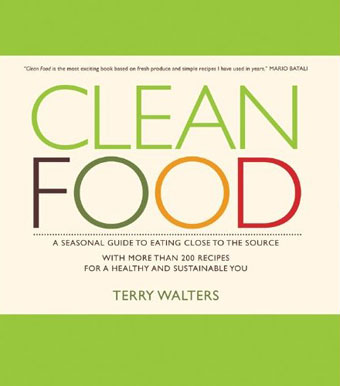 You all know how passionate I am about clean eating and integrating plentiful amounts of whole, fresh foods into my lifestyle. Not a day goes by that I don't practice what I preach, and inspire my clients to do the same.  This week I'm all about lentils, lots of fresh greens, some green smoothies and adding more raw foods to my diet.
And nothing's better than finding new clean eating resources that inspire me in the kitchen. This past week, I had the pleasure of attending Terry Walter's talk on Clean Food at the New Haven Public Library. Terry, a fellow graduate of the Institute for Integrative Nutrition, is the author of the recently published Clean Food cookbook, a seasonal guide to eating close to the source.
She shared about the power of preparing and eating real food for her and her family and how any of us can take baby steps in the right direction using seasonal, locally grown food. I'm always of that mind with my clean eating clients — it's never about changing up everything in your routine at once, but about simple choices we can make everyday to step in the right direction.
Terry has a warm personality and engaging style that shone through during her talk. Along the way, she prepared some yummy dishes — a quinoa salad with fresh mango, black beans and mint, and a delicious garden salad with a lemon vinaigrette dressing — that we all had the pleasure of enjoying.
Nothing was a better follow up to the evening than noshing over a healthy meal with my good friend Jannae as we compared notes about what we were going to make from the cookbook over the weekend. 
And just as I promised myself, I got busy on Saturday and whipped up her sweet potato, corn and kale chowder.  I used Trader Joe's frozen, fire roasted corn and loved the rich flavor.  I also tried her banana, coconut and chocolate chip cookies.  They are so easy to make and I like that the only sweetener is a 1/4 cup of pure maple syrup.  These vegan cookies were a bit hit at the dinner party we attended on Saturday night.
I really like the way Terry has divided up the cookbook by seasons.  Given that spring is officially here, I naturally gravitated to that section and am giving special focus to recipes that contain greens, one of the best springtime detoxifiers around.
If your aren't familiar with Clean Food, you have to check it out, it's worth every penny of the price. And it's the perfect resource for clean eaters like me that are looking for some fresh, new recipes to build into my repertoire — it reminds me how fun it is to experiment in the kitchen as I support my health.
Have you had a chance to try out Clean Food already? What do you think? What's your favorite recipe that you just can't get enough of?
Filed under: clean eating, Greens, Locally Grown Food, Quinoa, Vegan, Whole Food Nutrition